GAMSAT is the Graduate Medical School Admissions Test which is a standardised exam designed, scored and developed by ACER to assist in the admissions of students to graduate-entry programmes (medicine, dentistry, optometry, pharmacy) open to graduates of any discipline. GAMSAT is offered twice a year, in March and September, in each of Australia, the UK, and Ireland, as well as selected international locations.
The following is a summary of your GAMSAT exam day.
Summary of GAMSAT Exam Day Schedule and Subjects
Key Points
Event
Duration
Arrival and Sitting of Exam
In large testing centres, queues can be significant
Security, identification
45-60 minutes
Section 1: Reasoning in Humanities and Social Sciences
Interpretation and understanding of ideas in socio-cultural contexts based on stimulus material
Reading time

---

75 MCQs*
10 minutes

---

100 minutes
Section 2: Written Communication
Produce and develop ideas in writing; this is the only written section of the exam
Reading time

---

2 Writing tasks
5 minutes

---

60 minutes
Lunch
Consider packing your own lunch to avoid queues with nervous chatter
-
60 minutes
Section 3: Reasoning in Biological and Physical Sciences
40% Biology, 40% Chemistry (equally split between General and Organic); 20% Physics
Reading time

---

110 MCQs*
10 minutes

---

170 minutes
Total Content Time
-
-
5 hours, 30 minutes
Total Test Time
-
-
6 hours, 55 minutes
Total Appointment Time
Success requires stamina; stamina improves with practice.
-
Approximately 7 hours 40 minutes**
*MCQs: multiple choice questions, 4 options per question with only 1 best answer
**A full day is needed to sit the GAMSAT test. It is not unheard of to spend 9 to 11 hours on exam day at the larger testing centres (i.e. Sydney, Melbourne, Brisbane, Perth, London, Dublin). Travel arrangements to and from the testing centre should be carefully considered, taking into account the likely added traffic on exam day at the larger testing centres.
The assumed knowledge required for the Reasoning in Biological and Physical Sciences section of the test essentially corresponds to the first year of university studies in Biology and Chemistry, and A-level/Leaving Certificate/Year 12 in Physics (see GAMSAT Syllabus). However, the stimulus material used during the exam will often explore advanced-level content in order to assess your reasoning skills and ability to interpret graphs, tables, and mathematical relationships.
The most common mistake that students make, from both science and non-science backgrounds, is to learn that GAMSAT is a reasoning test but then prepare as though it is a knowledge-based exam. This tactical error usually results in major exam-day surprises. Referring to such experiences as "trials" without the benefit of a rigorous preparation, does not result in significant long-term GAMSAT score improvements (see 10-year Retrospective Study). Rather, developing your own preparation schedule, or ascribing to one such as our Gold Standard GAMSAT Study Schedule, is more likely to increase the chance that you will optimise your GAMSAT score.
"Since problem-based learning techniques are central to modern medical curricula, GAMSAT is constructed with a major focus on the assessment of problem solving ability across a wide range of subject areas."
- ACER's description of GAMSAT 2019, GAMSAT Structure and Content
The solution to improve one's GAMSAT score is problem-based learning. Although this may be uncomfortable at first, much research has shown why it is most effective and, understandably, it has long been championed by ACER (see GAMSAT Structure and Content), as well as Gold Standard GAMSAT (see GAMSAT Courses PBL; note that Gold Standard is not associated with ACER in any way). Along with careful use of ACER's practice materials, Gold Standard GAMSAT's multimedia program (textbook, courses and videos, apps, etc.) can be central to an effective GAMSAT preparation plan.
IMPORTANT DATES:
GAMSAT 2020
These dates apply to each of Australia, the UK and Ireland
| | | |
| --- | --- | --- |
| Testing Dates | March 21, 2020 | September 9, 2020 |
| Registrations | Early November, 2019 | Mid May 2020 |
| Late Registrations | February 10, 2020 | July 30, 2020 |
Applications to Graduate Medical Programmes for 2020 Entry
Opening dates
Domestic* Medical, Optometry and Dental programmes
April 30, 2019
Medical and Dental Programmes at the University of Sydney
April 1, 2019
Dental Programme at the University of Western Australia
March 1, 2019
Master of Pharmacy Programme
March 1, 2019 (University of Western Australia);
The University of Sydney observes a rolling admissions process so applicants to the programme are encouraged to apply as early as possible
Podiatry Programme at the University of Western Australia
March 1, 2019
Closing dates
Domestic Graduate Medicine, Dentistry and Dental Surgery applications
May 31, 2019
Domestic Graduate Medicine and Dentistry applications at the University of Sydney
May 23, 2019
Domestic Graduate Optometry applications
July 31, 2019
Domestic Master of Pharmacy applications
February 11 of the commencing year (University of Sydney);
August 9, 2019 (University of Western Australia)
Doctor of Podiatric Medicine applications at the University of Western Australia
September 30, 2019
*The timeline and number of places available for international applications need to be verified with the respective universities.
The Graduate Entry Medical School Admissions System (GEMSAS) in Australia has recently published Admissions Guides specific to Medicine, Dentistry, and Optometry. They can be downloaded here: GEMSAS Online Admissions Centre.
Applications to the graduate medical, dental and pharmacy programmes of the University of Sydney are processed directly by the university. You may access their admissions guide here: Doctor of Medicine and Dental Medicine - The University of Sydney and Master of Pharmacy - The University of Sydney. SImilarly, the University of Western Australia directly handles applications to their Doctor of Dental Medicine, Doctor of Podiatric Medicine and Master of Pharmacy programmes. Information of the entry requirements can be found here: Domestic Graduate Pathways to MD, DMD, DPM and Pharmacy - UWA
GAMSAT is available to any student who has already completed a Bachelor degree, or who will be enrolled in their penultimate (second-last) or final year of study for a Bachelor degree, at the time of sitting the test, who believes he/she has achieved an appropriate level of intellectual maturity and subject knowledge to meet the demands of the test. GAMSAT is designed to assess the capacity to undertake high level intellectual studies in a medical or dental course. It is offered twice a year. For 2020, the test date of the first sitting is on March 21, 2020. The second sitting in 2020 is scheduled for September 9, 2020. For more information about the exam dates or any recent changes, please visit ACER's website: Register for GAMSAT.
GAMSAT evaluates the nature and extent of abilities and skills gained through prior experience and learning, including the mastery and use of concepts in basic science, as well as the acquisition of more general skills in problem solving, critical thinking and writing. If your first degree is in a non-scientific field of study, you can still sit GAMSAT and be chosen for admission to the graduate-entry programmes. A science background is not a prerequisite and academic excellence in the humanities and social sciences is encouraged and recognised. However, it must be stressed that success in GAMSAT is unlikely without knowledge and ability in the biological and physical sciences. The Gold Standard offers programs for individuals with both science and non-science academic backgrounds (GAMSAT Preparation Courses).
GAMSAT score
GAMSAT scores are mapped onto a scale which ranges from a high of 100 to a low of 0. Note that more than 95% of candidates will receive a scaled GAMSAT score between 40 and 80 (see GAMSAT Score Distribution curve below).
GAMSAT scores are based on Item Response Theory (IRT) which depends on the cohort and the degree of exam difficulty. IRT is a statistical adjustment to ensure that GAMSAT scores are comparable from year to year. Your GAMSAT score is not a direct equivalent to your raw score (i.e. how many correct answers divided by how many questions in Section 1 or 3), nor is your GAMSAT score a simple percentage.
Your GAMSAT results will be available in November for the September sitting. Results for GAMSAT held in March will be available in May. An email will be sent to you explaining how to access your results online. You will receive a score for each of the three sections, together with an Overall GAMSAT Score. The Overall Score is a weighted average of the three component scores. Each of the four GAMSAT scores is expressed on a scale of 0 to 100. Again, these are not percentage marks.
The Overall GAMSAT Score is calculated using the following formula*:
Overall Score = (1 x Section I + 1 x Section II + 2 x Section III) / 4
*As you can see, the science section (Section III) is weighted twice so that your overall GAMSAT score is 50% non science and 50% science. Among the various medical schools in Australia, the UK, and Ireland, both the University of Melbourne and University of Sydney weights all three sections equally.
Note: The Overall Score is calculated to several decimal places. It is not possible for candidates to replicate this process.
GAMSAT Scores in Australia, UK and Ireland
GAMSAT scores from either the March sitting or September sitting are interchangeable, and can be used to apply to any university in Australia, the UK and Ireland that requires the GAMSAT. You must ensure that your scores have not expired if you are using a score from a previous sitting of the GAMSAT (i.e. GAMSAT scores cannot be more than two years old). Otherwise, you choose the GAMSAT score that you wish to submit for consideration for admissions.
Since there is no limit to the number of times you can sit the GAMSAT, you may even choose to sit the exam twice in one year. Any two tests on different examination dates will have, essentially, the same format; however, many questions are changed for each exam.
Cut-offs and/or average GAMSAT scores for specific medical schools/programmes can be found in the following related sites: Australian Medical Schools, UK Medical Schools, Irish Medical Schools.
Average, Good and High GAMSAT Scores
Average, good and high GAMSAT scores are relative terms and, as such, are dependent on perspective, the cohort and the medical school to which you intend to apply. The following table provides a general guide. Please keep in mind that the percentile rank indicates your test performance relative to all the students who sat the same test on the same day. It records the percentage of students whose scores were lower than yours.
| Score | Percentile | Score |
| --- | --- | --- |
| 56-58 | 50th | average |
| 61-63 | 75th | usually good* |
| 73 or higher | 98th | very high |
*Please note, a "good" score may be good enough for admittance to one particular medical school but below the cutoff of another. Consult the websites of the medical institutions to which you intend to apply.
An average GAMSAT score is often around 56-58 and a high GAMSAT score is over 65. Technically, the highest possible GAMSAT score is 100; however, only 0.1% of students score over 80. When you hear a student make the claim "I scored 100", they are usually rounding their percentile rank as opposed to providing the scaled score.
Please keep in mind when evaluating the statistics provided and the graphic: this data is meant to give you a general idea of the process. The numbers can vary somewhat from one exam sitting to another. And as mentioned previously, you cannot replicate the scoring system at home since there is no formula provided to convert raw scores into official GAMSAT scores.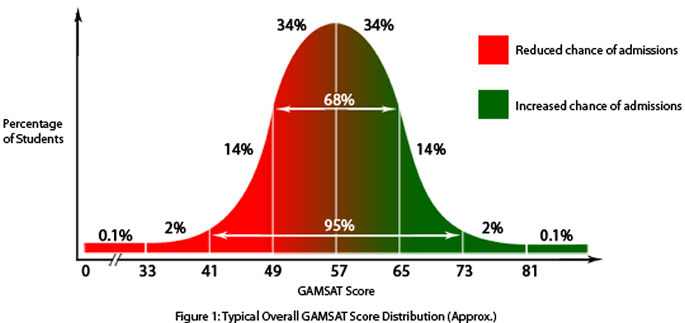 When are GAMSAT scores released?
The next testing date will be March 21, 2020. GAMSAT results are released within 2 months of sitting the exam. Candidates are emailed login information to access their personal results report. Should there be any changes to the exam dates or any other modifications, get the up-to-date information here: GAMSAT ACER website.
The preceding information was adapted with permission from The Gold Standard GAMSAT Textbook. To learn about the books, the online videos or the Complete Package, click here: GAMSAT books.
Past GAMSAT Release Dates
| Year | March Sitting | September Sitting |
| --- | --- | --- |
| 2019 | May 10, 2019 | (TBD, likely mid-Nov.) |
| 2018 | May 18, 2018 | November 9, 2018 |
| 2017 | May 18, 2017 | November 10, 2017 |
| 2016 | May 12, 2016 | November 10, 2016 |
| 2015 | May 11, 2015 | November 12, 2015 |
| 2014 | May 16, 2014 | November 18, 2014 |
| 2013 | May 17, 2013 | November 19, 2013 |
| 2012 | May 18, 2012 | November 22, 2012 |
GAMSAT Australia Test Centres
For the March sitting in Australia, there is a GAMSAT testing centre in Townsville, Dubbo and in each of the capital cities of Australia (Sydney • Wollongong • Ballarat • Melbourne • Canberra • Brisbane • Adelaide • Perth • Hobart • Darwin). A GAMSAT test centre outside Australia is located in Wellington, New Zealand, as well as Washington D.C. and Singapore. However, in September, test centres in Australia are only limited to locations in Brisbane, Melbourne, Sydney and Perth. There are no additional GAMSAT Australia test centres. Space is limited and allocated on a first-come, first-serve basis, so please register early. If your chosen centre is no longer available, ACER will book your exam at the nearest available testing centre.
GAMSAT UK Test Centres
GAMSAT UK Test centres in September are located in Cardiff, London, Edinburgh, Liverpool, Birmingham and Sheffield. A GAMSAT test centre outside UK is located in Washington D.C. and Tel Aviv. As described above, students applying to medical schools which accept the GAMSAT in the UK, Ireland or Australia can sit any of the two available exams during the year. Students can opt to sit the GAMSAT in March in Liverpool and London. No other GAMSAT testing centres are available in the UK.
GAMSAT Ireland Test Centres
GAMSAT Ireland test centres in March are located in Dublin, Cork and Limerick. For an additional fee, it is possible to sit GAMSAT Ireland in the UK. Dublin is currently the only GAMSAT Ireland test centre available for the September sitting.
Washington, DC in the US and Singapore are the only international testing centres where you can sit the GAMSAT outside Australia, New Zealand, the UK and Ireland in March. Please note that Washington, DC test centre is now included, along with Tel Aviv, for September sitting. Space at international locations is limited and allocated on a first-come, first-serve basis, so please register early.
How to improve your GAMSAT Score
Gold Standard GAMSAT can show you how to improve your GAMSAT score in 4 key steps: self-assessment, creating a study plan with realistic goals, implementation, "rinse and repeat"! We have created a brand new webpage detailing your GAMSAT score improvement plan: How to improve your GAMSAT score
Free GAMSAT Practice Test
Students previously asked us to combine GAMSAT sample questions into a practice test. We went one step further and created a free sample test with instant online access and including many features such as automated scoring of multiple choice sections; worked solutions containing forum links for further discussion; and finally, 1 hour of science review videos. To learn more or to register: Free GAMSAT Practice Test.
From our textbooks to our classroom courses, and from our videos to our Essay Correction Service, surf our site and find out why The Gold Standard is known as The Only Prep You NeedTM.
Gold Standard GAMSAT Testimonials and Reviews