Gold Standard GAMSAT:
Learn • Review • Practice

Gold Standard GAMSAT Courses: Live on Campus
Join us in 2020 for our 10th year of providing GAMSAT prep courses on campus across Australia, the UK and Ireland!

More class time to address your weaknesses and develop your GAMSAT-level reasoning skills: 60+ hours of classroom courses on major campuses in Australia PLUS an optional 30+ hours of online problem-based GAMSAT tutorials and monthly interactive webinars!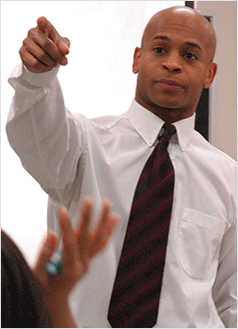 GAMSAT Section 1, 2, 3 Course with the author of The Gold Standard GAMSAT
$199

Any Single Day: 9 am - 5 pm

$597

All Four Days: 9 am - 5 pm
Dr. Ferdinand uses a problem-based learning approach to teach the most frequently tested GAMSAT topics in non-science verbal reasoning (Section 1), written communication (Section 2 essays), and the sciences (Section 3). A 1-day bridging course is available to help science students review Section 1 and 2 strategies; non-science students cover basic science to prepare for the next 2 days of science review.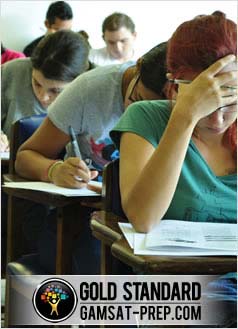 Virtual Reality GAMSAT Exams followed by Interactive Review of Solutions
$199

Any Single Day: 9 am - 5 pm

$597

All Four Days: 9 am - 5 pm
In this course, students sit a full-length practice exam (Virtual Reality GAMSAT VR-1 exam) on the 1st day; the 2nd day is for review and problem-solving analysis; the 3rd day is to cover advanced GAMSAT topics and to apply problem-based learning to the review of the content from the VR-1 practice test. A second full-length proctored GAMSAT VR-2 Mock Exam features the best of Gold Standard's GAMSAT-level practice questions.
Purchase attendance for any single-day course for $199/day:
The Completely Revised Gold Standard GAMSAT Textbooks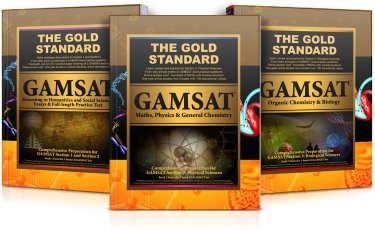 Skills, strategies and practice for Section 1 and 2
Learn, review and practice for Section 3: Physical Sciences and Biological Sciences
From basic concepts to GAMSAT-level practice questions
Over 1200 MCQs with helpful, worked solutions
One-year online access now includes over 300 educational videos
Dimensions of each book: 21.3 x 3 x 27.4 cm
$349 for all 3 books, Save $40!
Gold Standard Preparation for GAMSAT (Australia, Ireland, UK)
Gold Standard has now produced the most comprehensive preparation for GAMSAT 2019-2020. Three textbooks to help you learn each section in incredible depth. All come complete with heaps of extras, including one-year online access. Each textbook is in colour and has over 400 pages (total: 1312 pages; 3.5 kg). The biggest change from previous editions is the adding of brand new pages and content directed at problem-based learning starting with the most elementary ideas in each domain and working right up to complex GAMSAT-style reasoning.

---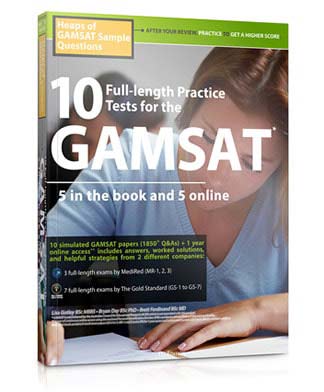 10 Full-length Practice Tests for the GAMSAT
Complete your GAMSAT prep with heaps of practice with this brand new addition to the Gold Standard GAMSAT family!
Designed for GAMSAT-level practice with the creative skills of two companies: Gold Standard and MediRed Australia
5 GAMSAT practice papers in the book and 5 different mock tests online (accessed with a PIN included in each book)
One-year online access also includes answers and worked solutions for all 10 exams
Paperback: 508 pages; Dimensions: 21 x 27.4 x 2.5 cm; ISBN: 978-1927338377; New edition (Publ. Jan. 2018)
The Gold Standard GAMSAT 3-book set and Heaps book are part of the Home Study GAMSAT Prep Course and all complete course packages.
$199 or buy with the 3-book set for $548, save $60!
Home Study GAMSAT Prep Course: Books, Videos and MP3s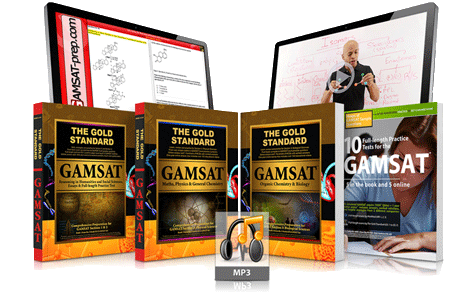 Gold Standard GAMSAT Preparation: Home Study Course
4 Books: 3 Textbooks + 10 Mock Exams Book; MP3s and Online Science Videos; GAMSAT and Interview videos; 2019-2020 Edition
Offers clear teaching and reviews all of the topics that ACER requires you to know for the GAMSAT (science, verbal and written): 3 Textbooks (in colour; 1312 pages) + 10 Mock Exams Book (over 500 pages) + Online Science Videos + MP3s!
Over 3000 practice questions available in the books and online using the GS Online Access Card with Personal Identification Number (PIN).
The 10 full-length GAMSAT practice tests that come with this package include helpful, worked answers: 5 paper tests in the book and 5 different tests online.
Unlimited access to our 70+-hour video library for 1 full year using your PIN. In all, you will have access to more than 300 online videos.
Bonus: GAMSAT online video that gives specific advice and strategies for the different sections of the GAMSAT to help you optimize your GAMSAT score, as well as hours of online videos to help you improve your skills for the medical school interview.
Dispatch within 48 hours from Sydney, London, NY. Delivery in less than 1 week to Australia, Ireland, the UK, US. For other destinations, click: International Shipping.
Online GAMSAT Courses
70+ hours of science review videos
Over 1000 MCQs/worked solutions
Online lessons in all 3 sections
Section 1: Over 20 mini-tests: Poems, Cartoons, Verbal, Reading Speed, etc.
Section 2: Strategies, 50 Exercises + Forum
Section 3: High-yield chapters online, hundreds of questions/answers
$89.95/month
Cancel anytime!
Section 2 is not a spectator sport: to excel, you need strategies and practice. We offer up to 16 of your essays corrected/returned in a few days.
Personalised advice and comments
Corrected by experienced markers
Learn Gold Standard techniques
Click: sample corrected essays
$119 to $399
Tips + Practice!

Online Tutorials
12 GAMSAT Online Tutorials for the March Sitting
Online and interactive small group tutorials with the author of The Gold Standard GAMSAT Textbooks
Stay on track of your GAMSAT goals, develop efficient exam strategies
Sundays at 8 pm AEST: Dec 15, 2019; Jan 5, 12, 19, 26, 2020; Feb 2, 9, 16, 23, 2020; March 1, 8, 15, 2020 (Options: live online or recorded)
Learn, review and practice for 3 hours per tutorial session
Attend any single tutorial for $69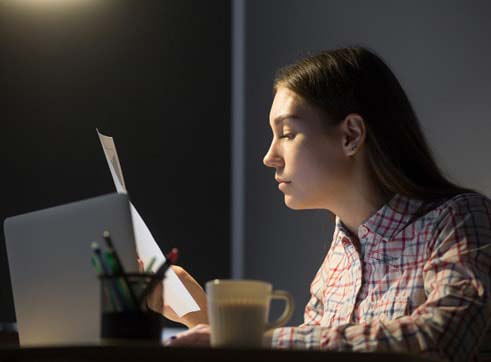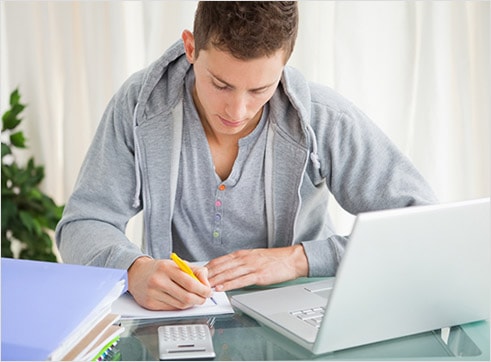 10 GAMSAT Online Tutorials for the September Sitting

Small group, 2-hour online tutorials with Dr Ferdinand focusing on GAMSAT strategies 10 Sundays before the real GAMSAT
Sundays at 9 pm AEST: June 14; July 5, 12, 19, 26; Aug. 2, 9, 16, 30; Sept. 6, 2020 (Options: live online or recorded)
Personalise your GAMSAT preparation with the guidance of an experienced GAMSAT teacher
NOTE: This course is also ideal if you intend to prepare early for your March 2021 sitting.
GAMSAT Practice Tests
Individual GAMSAT Practice Test Purchase
Timed like the real exam
On-screen highlighter & strikeout features
GAMSAT-style practice questions
Detailed explanations with scaled scores
Forum discussions
Each exam attempt saved in History
Package of All 5 Online Exams Purchase
Get all the same features as our Individual GAMSAT Practice Test offer
3 hours of online science review videos
Save $50 as compared to purchasing the exams separately
Over 900 practice questions with worked solutions
Comprehensive GAMSAT Course Packages: On Campus, Online and Home Study
---
---
Shipping is fast and free to Australia, Ireland, the UK and the US. Any package over $500 includes the following bonuses: Medical School Interview online video and small group teaching session either online or in class (Brisbane • Sydney • Melbourne • Adelaide • Perth • Dublin • London).